Washington dc's rapidly developing downtown zone
Shaw is a neighborhood located in the Northwest quadrant of Washington, D.C., named after Union Colonel Robert Gould Shaw, the commander of the 54th Massachusetts Volunteer Infantry during the American Civil War.
Shaw is bounded by M Street NW and Massachusetts Avenue NW to the South; New Jersey Avenue NW to the East;Fairmont Street NW to the North; and 11th Street NW to the West. The area also includes the U Street Corridor, which is the commercial hub of the Shaw, that extends westward to 16th Street NW.
Fairmont Street marks the northern boundary with the adjacent neighborhoods of Columbia Heights and LeDroit Park. The area consists of gridded streets lined with small Victorian row houses. Howard University is located in the thePleasant Plains neighborhood, in the northern part of Shaw. Shops and theatres are located along U Street and centered along 7th Street NW, the original commercial hub of the area prior to the redevelopment in the wake of the 1968 riots andGreen Line Metrorail construction.
Shaw is sometimes considered to include Logan Circle, Truxton Circle, Randolph Square and other neighborhoods east of 16th Street and north of Downtown Washington, D.C. In recent years, those neighborhoods have become seen as separate entities, with North End Shaw referring to the neighborhood north of Florida Avenue bordering Howard University.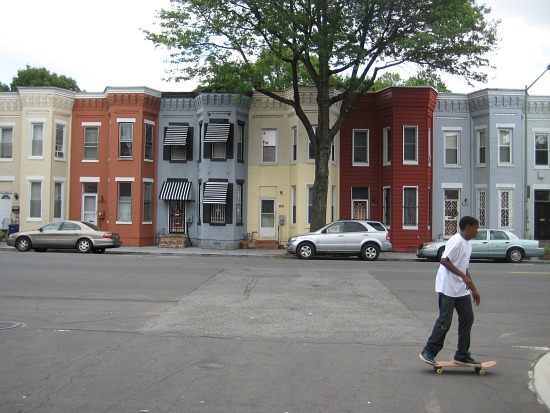 Shaw has grown dramatically since the mid-to-late 20th century, with a 2010 population of 17,639. In 1950, the area's population had reached over 34,000 people, around double its current level.Like many neighborhoods throughout Washington, D.C., these community hit a population low point in the 1980s and 1990s, rebounding considerably at the turn of the 21st century
Since 2001, a number of
Ethiopian
restaurants and retail businesses have either opened or moved from nearby Adams Morgan into these community, settling in particular on the once desolate block of 9th Street NW between T and U streets. This influx of Ethiopians has revitalized the corridor, prompting members of the
Ethiopian American
community to lobby the city government to officially designate the block as "Little Ethiopia". Although no formal legislation was proposed, Residents have expressed opposition to the idea, feeling that such a designation would unfairly isolate that area from the historically African American.
 Prices Higher Than You Might Imagine
While Shaw is not changing in the same way as Logan Circle or Columbia Heights, the neighborhood is evolving. Over the last decade, newcomers have moved in to the area's statuesque Victorians, smaller federal-style row houses, and boutique condo buildings, transforming blocks formerly characterized by abandoned houses
The Bottom Line
Calling these place"a work in progress" is more than a little condescending. After all, the community has over a century's worth of rich history. But in a city where some neighborhoods have transformed in less than a decade, the neighborhood very gradual pace of growth can draw criticism. Can a still-hot housing market and seemingly endless demand for old row houses create a market for potential developers and retailers in the community? That remains to be seen.
| Statistic | Aug | YoY | MoM |
| --- | --- | --- | --- |
| Total Sold Dollar Volume | 4,053,000 | up140.5% | down23.9% |
| Closed Sales | 6 | up100% | 0% |
| Median Sold Price | $555,750 | down9.6% | -37.2% |
| Average Sold Price | $675,500 | up20.2% | -23.9% |
| Median Days on Market | 31 days | up121.4% | +72.2% |
| Average Days on Market | 36 days | up176.9% | +71.4% |
| Median Price per Sq Foot | $173 | down69.3% | -66.4% |
| Average Price per Sq Foot | $387 | down29.4% | -30.4% |

Zip Code: 20001
Schools: Thomson Elementary School, Cleveland Elementary School, and Walker-Jones Education Campus (elementary and middle school); Francis-Stevens Education Campus (middle school) and Middle School at Garnet-Patterson; Cardozo High School and Dunbar High Schools
 rental data from Craigslist

© 2017 Metropolitan Regional Information Systems, Inc. All rights reserved.
Information Deemed Reliable, but Not Guaranteed. The property information being provided is for consumers' personal, non-commercial use and may not be used for any purpose other than to identify prospective properties consumers may be interested in purchasing. The listing information provided on this website comes from various brokers who participate in the Metropolitan Regional Information Systems IDX program.
MRIS data last updated at September 22, 2017 1:12 PM ET